Inspiration behind the menu
Our menu is based on traditional French style cooking with a modern twist. The original Head Chefs that Chris worked under were predominantly French or Swiss which is where this influence came from.
Chris trained using traditional methods and these, along with the "nouvelle cuisine" style of the 80s, has led him to his culinary creations of today. Having met the Roux family and enjoyed the restaurants of many other fine Chefs, Chris believes his silent mentor would have to be Raymond Blanc at Le Manoir aux Quat Saisons, for his undying enthusiasm and desire to be in his kitchen every day.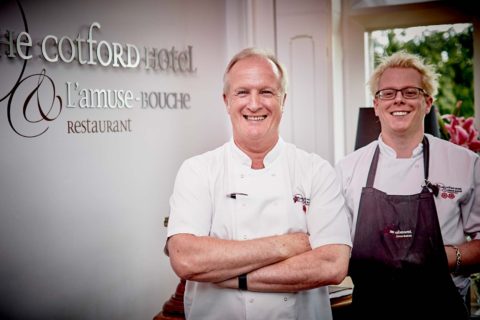 Our chefs use local and organic produce wherever possible and we've held 2 rosettes and been Michelin recommended since 2010. We have an experienced and skilled team that bring our menu to life. For us, exceptionally good tasting food is a given, but good presentation is of the utmost importance too as people always eat with their eyes in the first instance.
Book now: reservations@cotfordhotel.co.uk
(Room bookings are subject to payment in full if cancelled within 48 hours of arrival)
If you'd like further information
please call or email our friendly staff.
01684 57 24 27